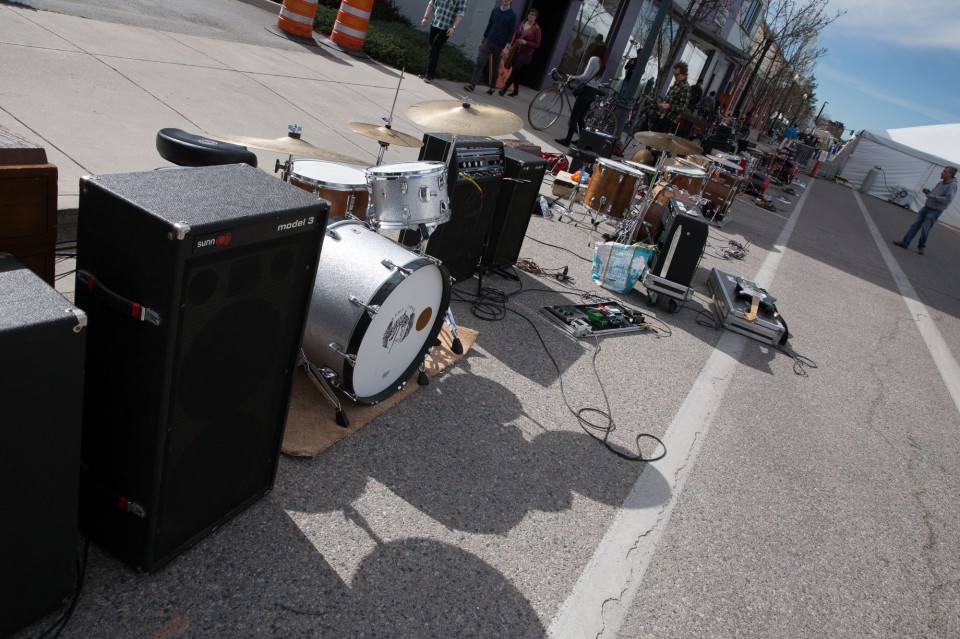 BAND DIALOGUE
"There's no hyperbole that could adequately describe the sheer sensory assault. It evoked the scale of post rock experiments such as the Boredoms' 77 and 88 Boadrum event gatherings, but accomplished something more joyous and profound: a conversation, not just a shared trance. It was epic. It was exhilarating. It was beautiful." - Oregon Live
Band Dialogue is a massive composition, experiment, and conversation that explores the sonics of many bands, stretched out across a space, playing simultaneously, part orchestra, part installation. Continuing in the lineage of large scale guitar and drum events by the likes of NYC composer Rhys Chatham and Osaka noise lords Boredoms, each version is adapted to the site and bands for something totally unique - bands radiate their individual glory while simultaneously expanding into one colossal sound.
Band Dialogue is a piece I started imagining in 2012 and composed the first version of in 2013 for Hopscotch Music Festival with the production help of Martin Anderson and Tina Haver Currin helping me pull off the crazy idea the first time. Since then I have been lucky to do it at Treefort Music Fest and Sled Island as well as Hopscotc , which I think are 3 of the coolest music festivals in North America right now. All with their own individual, artistic voice, but sharing a focus on music and community which for me is what Band Dialogue is all about. Every year the piece keeps getting different, bigger, and LOUDER and I've met an amazing amount of incredible musicians, discovered new bands, and made new friends.
" For many, the highlight of the festival came on Saturday afternoon at Band Dialogue III, where Seth Olinsky of Akron/Family, who was performing at Treefort under the moniker of his side-project Cy Dune, took on the role of COMPOSER and conductor in leading a dozen full bands in a massive orchestra that lined both sides of a closed off city block. Olinsky used cue cards to give the bands chord progressions, and his back and forth commands triggered bands, instruments, and alternating sides of the street, creating a sweeping whirlwind of sound that washed over everything in the surrounding area. " - Portland Mercury
MUSICIANS THAT HAVE PARTICIPATED IN BAND DIALGOUE I - V include:
Sun Blood Stories, The Western Mystics, Cy Dune, Ali Beletic, Dana Buoy,Tuft, Sugar Candy Mountain, Animal Eyes, Invisible Hand, Religious Girls, AU,安 AAN, Built to Spill, American Culture, Terrible Light, Marshall Poole, C.J. Boyd, BATTLEHOOCH, HiHazel, Ali Beletic, Tuft, Religious Girls, Sun Blood Stories, Battlehooch, Unconditional Arms, Western Mystics, Marshall Poole, CJ Boyd, Invisible Hands, Animal Eyes, Sugar Candy Mountain, Terrible Light, and Hi Hazel, Andrew Barker, Tim Dahl, Greg Fox, Pontiak, Hi Ho Silver Oh, Jamaican Queens, Dead Soft, Stepmothers, Outlaws of Ravenhurst, WHOOP-Szo, The FAPS, Brother Prussia, MILK (band), Chick Magnets, 36?, Daniel McCormak,Windigo, Raleigh,matt doherty, Hexray, Saxsyndrum, Ohioan, Delicate Steve,Twin Steps, Inner Oceans, Wooden Indian Burial Ground., Sama Dams, Art Fad, Godspeed You! Black Emperor , Benjamin Pacheco, Mike Horick, Bill Pfeifer.